FREQUENTLY ANSWERED QUESTIONS REGARDING SPRINT BOOSTER V3 POWER CONVERTERS
From time to time, we have customers call or write us with questions. We've complied a list of those questions and their answers. We hope this helps. And if you have another question that is not answered here, please call, chat or email us at [email protected].
---
ABOUT SHIPPING AND COSTS
Q: What about Shipping Costs?
A: We will FREE SHIP ANY Sprint Booster V3 to customers within the contiguous United States. Unfortunately, because of duties, tracking, cost of shipping and other factors, we cannot offer the same benefit to customers in other parts of the world including other states and territories of the United States.
Q: Are Your Prices The Lowest Prices I Can Get?
A: YES THEY ARE! We meet the Manufacturer's lowest retail price. And if you see others with lower prices make sure a: they are legit and b: they are selling you a Sprint Booster V3 not a V2 or V1.
Q: What About Your 30-Day Money Back Guarantee?
A: It's exactly like it says, if you don't like it, we'll take it back no questions asked. HOWEVER, because some users purchase Sprint Boosters for cars they drive overseas, we cannot guarantee that the Sprint Booster will fit their car.
Q: I have a car that wasn't made for the U.S. Market. Will Sprint Booster V3 fit my car?
A: Maybe. Because Sprint Booster Sales only Sprint Boosters with pins matching U.S. cars, we cannot guarantee that cars sold in markets outside the US will have the same pin registration.
---
ABOUT SPRINT BOOSTER V3
Q: What Exactly is A Sprint Booster V3?
A: Sprint Booster is an electronic device that modifies the throttle curve for increased performance that makes your car "feel" more powerful. The stock system is designed for "smoothness" and fuel economy while Sprint Booster makes your car more "fun" to drive.
Q: Is Sprint Booster a software product?
A: Sprint Booster is a hardware based product designed specifically for your car. It installs easily between the accelerator pedal module and the harness. Sprint Booster can be installed in about 10 minutes with a 5mm allen wrench. Your car can be restored to stock just as easily.
Q: Why is Sprint Booster So Effective?
A: Modern cars like the car use a drive-by-wire technology where the throttle is operated electronically instead of using a cable as in the past. This modern technology introduces an undesirable side effect of a slow response and less than impressive off-the-line performance. Sprint Booster overcomes this.
---
PERFORMANCE QUESTIONS
Q: How much horsepower gain can I expect from Sprint Booster?
A: Sprint Booster does not increase horsepower. Sprint Booster changes the throttle response in the low to mid rpm range where cars spend a majority of their time. As a result, your car feels peppier and more powerful.
Q: Why should I buy ECU upgrades if Sprint Booster is so good?
A: Sprint Booster is designed to greatly improve the everyday driving experience. ECU upgrades have a clear advantage when driving on the track where you can continuously drive your car in the mid to high rpm range - this is where the horsepower increase really makes a difference. Sprint Booster is for the daily commute or trip to the store, ECU upgrades are better for track or competitive driving. Of course, there is nothing stopping you from adding this to your ECU upgraded car for an all-around performance gain!
Q: I read that Sprint Booster has 3 acceleration modes. What are they?
A: Well, truth is, they don't. Unless you count "Off", there are only two acceleration modes, SPORT and RACE. (See question below about 36 Acceleration Modes.)
Q: My vehicle's ECU has been reprogrammed. Will Sprint Booster work properly in tuned vehicles?
Sprint Booster is compatible with 'chipped' or ECU reprogrammed vehicles as it's function does not affect or alter the vehicle's fuel injection system.
---
SPECIAL FEATURES
Q: What are Some of the Special Features on the SprintBooster?
A: The V3 Sprint Booster features a Pedal lock mode (which provides extra protection against unauthorized vehicle use) and a Valet mode (which limits the acceleration of the vehicle by 55 % - 65% - 75% (comes in 3 selectable levels.) Both are active by a 3 digit PIN.
Q: Are there really 36 acceleration modes?
A: You may have heard others talking about the 36 acceleration modes. Well, technically that's true. But in reality - it's not. There are 36 modes to select from. But once you select your transmission, you've only got 18 acceleration modes left.
Then once you select SPORT – you only have 9 acceleration modes. Or, if you select RACE - you only have 9 acceleration modes. (And believe us when we say, "9 is all you need.")
So, while, yes, technically there are 36 modes, we don't like to tell people that.
Q: How do I work the Acceleration Modes?
A: The Acceleration Mode works through your selector. Simply press the selector button on the Selector, click once for Sport, click again for Race. Then use the buttons and the left and right of the Selector Switch to move through the 9 levels. Left is down a level, Right is up a level.
---
TECHNICAL QUESTIONS
Q: How Do you Select Your Transmission Type with the Sprint Booster V3?
A: Using the Selector, you simple slide a switch to either manual transmission or automatic transmission. The Sprint Booster does the rest.
Q: What if I have a diesel?
A: Just like your transmission you simple select your fuel type (gasoline or diesel) on the Sprintbooster Selector.
Q: How do I switch modes on the Sprint Booster V3?
A: Acceleration Programs Each mode (SPORT – RACE) comes with 9 programs each so the driver can choose the one that suits their driving style. In order to navigate through the different programs-steps on each mode you need to press one of the arrow buttons located on the left and right of your selection switch. The selected program is shown on the LED Display. Once you have set your preferences, press the main button to save your selection.
NOTE: Never change programs while pressing the accelerator pedal.
Q: Why does the light stay on after I turn off the car?
A: The light stays on after you turn off the ignition because of the residual power in the circuits when the car is shut down. The reason it stays on so long is the LED is an extremely low power device so it takes awhile for the power to bleed off. This is an extremely low use of power so there is no cause for alarm.
---
Perfecting The Product
Learn about how Sprint Booster and SprintBoosterSales.com became the first and leading throttle response product in it's industry.
History of Sprint Booster Article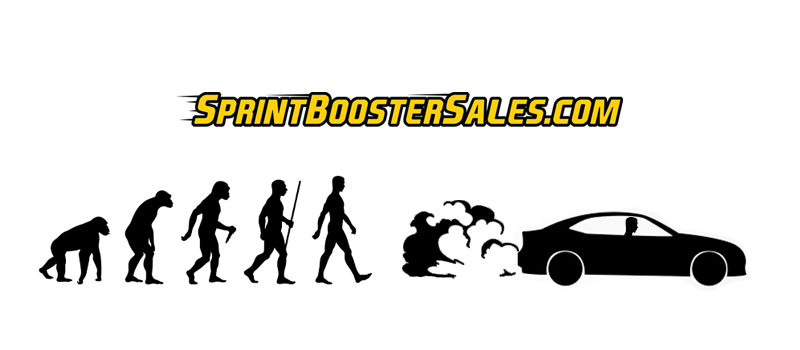 ---