You'll love what a Sprint Booster will do for your /category/!
• Increase your /category/'s performance in 10 minutes or less!
• Switch between factory, sport and race settings!
• Make your daily driving WAY more fun!


Why Do People Like Sprint Boosters So Much?
Since 2000, auto manufacturers replaced responsive cable throttle systems with the cheaper electronic versions. Unfortunately, they've robbed your /category/ of its performance. Sprint Booster not only corrects this problem, it actually improves your throttle response. It unlocks your /category/'s potential, creating a quicker, more responsive drive. So after you install Sprint Booster, you feel a huge difference the first time you hit the gas.
What happens in your /category/ when you hit the gas?
Usually, you get a full second of delay before you start moving. Sprint Booster Power Converters eliminates this unwanted hesitation and replaces it with a quicker acceleration.
The Power of Sprint Booster
Installing a Sprint Booster in your /category/ will:
• Provider quicker acceleration
• Enable faster passing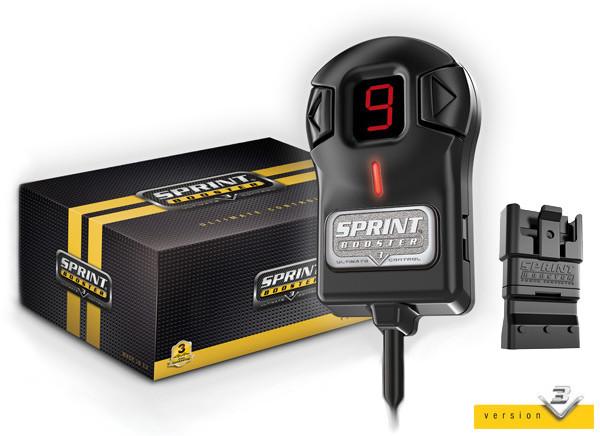 • Increase the responsiveness when driving uphill.
• Allow quicker gear changes
• Provide easier rev matching
Test Drive Our Sprint Booster With a 30-Day Guarantee!
We're so convinced that you're gonna love your Sprint Booster Power Converter that we offer a "No Questions Asked", bulletproof 30-Day Money Back Guarantee. Give it a risk-free test drive, see what you think. And if it's not for you… send it back. No harm. No foul.
Sprint Booster V3 offers you additional features than the previous version Sprint Boosters, such as:
• 36 Acceleration programs.
• Instant transmission and fuel adaption.
• Pedal Lock mode
• Valet Mode
• Ultra compact size and design
• Easy access while driving
Put the pedal to the metal and make driving your /category/ fun again with Sprint Booster Power Converters.

PLEASE NOTE: Sprint Boosters V3 were specifically designed to work on autos made for the US market. Cars developed for purchases outside the US may not be compatible with the US Sprint Booster.