Upgrade your CADILLAC Escalade's performance in 10 minutes or less!
Switch between factory, sport and race settings!
Sprint Booster puts an end to your CADILLAC Escalade's poor performance once and for all.
This isn't just something that you feel when you get to top end speed. You feel the difference in your daily driving... and it makes driving fun again.
We're offering a bulletproof 30-Day Money Back Guarantee! Since you need to feel the difference to believe it, you get to test-drive Sprint Booster for 30 Days, risk free!
What is Sprint Booster?
Since 2000, CADILLAC has replaced responsive cable throttle systems with the cheaper electronic versions. Unfortunately, they've robbed your CADILLAC Escalade of its performance.
Sprint Booster not only corrects this problem, it actually improves your throttle response. It unlocks your Escalade's potential, creating a smoother, more powerful ride.
What happens in your CADILLAC Escalade when you hit the gas?
Usually, you get a full second of delay before you start moving. Sprint Booster eliminates this... you get a quicker acceleration from a stop.
After you install Sprint Booster, you feel a huge difference the first time you hit the gas.
Sprint Booster gives you: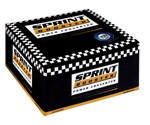 Quicker acceleration
Faster passing
Responsive uphill driving
Quicker gear changes
Easier rev matching
*****

Note: It is normal for the light to stay on after you turn off the ignition. This is caused by the residual power in the circuits when the car is shut down. The reason it stays on so long is the LED is an extremely low power device, and it takes time for this power to bleed off. There is no cause for alarm as this is an extremely low power dissipation and the light does go off.

*****
Reviews for Sprint Booster installed on an CADILLAC Escalade
no reviews for this model yet